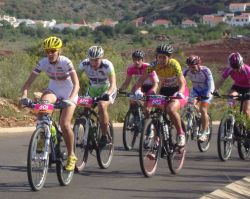 It is still possible :) to get a podium!
Last weekend – 29.04 - I was taking part in Portuguese Marathon Cup (Taça de Portugal XCM Sport Zone). Second edition of this series was organized by BTT Alte and with over 2000 participants turned into big bicycle fest.
My idea of taking part in this marathon was having different dimension – pure competition, meeting "old friends" and simply being part of the long weekend which I spent in Algarve.
But let's start a little bit different.
I am really enjoying to see how the portuguese women mountain biking is changing or maybe more proper would be to use word growing. I will come back shortly to 2008 when I was racing here with "full speed". On the start line at that time it was around 10 girls. My presence on the marathons was notified as I was winning with big difference and making good positions in general classification. With organized training, coach, sponsor's support and big motivation I was progressing and my results were more significant. Last Sunday I had possibilities to confront my view of national MTB – 27 girls, almost all having team/sponsors, many of them using coaching services and with motivation to score the result. It is nice to see the girl power :)!
Ana Antunes – current national champion - presented really good shape going almost all the race isolated in front. I believe that her determination and talent is a good base to try to make some results also abroad. Celina made very good marathon – racing at home and additional with experience gained on international stage races presented stable level during all the track and finish second. Myself needed to "fight" for the 3rd position with ex-"Pink Girl" – Marju Kivi. Mother of 3 kids came back to peleton much stronger and much more motivated!
This is called competition – GIRL POWER, PINK POWER :)!
| | | | |
| --- | --- | --- | --- |
| The marathon seeing with my eyes... Very soon after the start I realized that over 2 years out of regular racing is making the difference. The speed at the beginning of this marathon was too high for me - I couldn't completely find my place, my rhythm. First kilometres, not a few, but almost 20-30 were a disaster. I was going on 5-6th position and loosing the time for the front. Only after the second ZA, when the main uphill started I regulate my rhythm and start to ride better. At the beginning of the uphill I advanced to 4th position and continue "pushing" myself. Around 65km I "catched" Marju but it didn't come easy to me to take off 3rd position. Till the finish line both of us were giving all the best to get the place on podium. | | | |

1. Ana Antunes (JP Bike Clube)
2. Celina Carpinteiro (BTT Loulé / BPI)
3. Magdalena Balana (Individual)
4. Marju Kivi (LivePlace by Palegessos / Bicicletas Santiago)
5. Lia Seabra (Galitos / Ciclismo 1904 – Slowdown)
6. Mónica Santos (SAERTEX Portugal / Bicicletas Lavarinhas)

Congratualtions for all!
Nice race, nice weekend.
Thanks!
Greatings,
Magda
added: Dizzy, date: 03.05.2012, 12:50